Careers
Work Study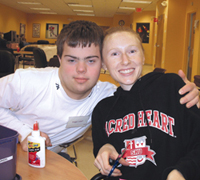 Federal Work-Study is a government-funded program awarded to students who qualify and demonstrate financial need and meet federal work-study requirements. Eligible students have the option to work at The Kennedy Center and therefore gain valuable work experience. Generally, students work six to ten hours a week but can work a maximum of twenty hours per week. Students are paid per hour and are compensated on a weekly basis.
Participation in the work-study program can be beneficial for students in the following ways:
Help pay for education and other related expenses
Encourage community service and work related to a student's field of study
Students gain valuable work experience
Improve job search, time management and budgeting skills
Help to further a student's resume
Reference or recommendation for future employment
For further information contact The Kennedy Center Community Liaison at 203-332-4535, Ext. 265 or email.
Download a Work-Study Application and Reference Form.