Giving
Awards Dinner & Annual Meeting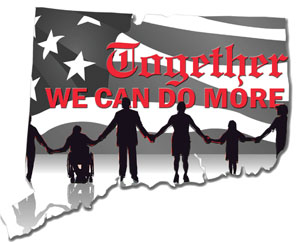 The Kennedy Center's 62nd Awards Dinner and Annual Meeting will celebrate its theme TOGETHER WE CAN DO MORE on April 25, 2013. This heartfelt evening highlights the many stories of accomplishment and triumph of the individuals we serve. We are excited to have Governor Dannel Malloy be this year's keynote speaker. Client and volunteer awards are presented later in the evening.

REGISTER
DATE: April 25, 2013
TIME:
6:00 pm Cocktail Hour
7:00 pm Presentation, Dinner & Award Ceremony
LOCATION: Holiday Inn, Bridgeport, CT

The Kennedy Center Annual Booklet Insert is given to all attendees that evening and distributed in the Connecticut Post to over 75,000 homes in Fairfield and New Haven counties. Ad space is a fraction of the cost of regular CT Post rates and it is a great vehicle to show community support. All proceeds benefit the individuals served by The Kennedy Center.

Thank You to the 2013 AD INSERT SUPPORTERS

For more information, please contact The Kennedy Center Special Events Coordinator at 203-365-8522, ext. 216 or email.

EVENT HISTORY: Following the by-laws requirement for The Kennedy Center as a 501 (c) (3) agency, an Annual Meeting has been held by the organization since 1951. Each year, along with the business meeting, awards are presented to Kennedy Center clients who have exceeded either in their work or planned goals, as well as to volunteers and local businesses that have shown exemplary support to our clients and the agency. A brief business meeting starts off the evening summarizing the agency's state of affairs followed by a presentation by the evening's keynote speaker and ending with The Kennedy Center's annual awards ceremony. It is a joyful and uplifting event that inspires everyone that attends.