What We Do
Mobility Services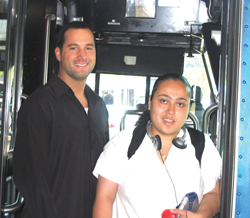 The Kennedy Center's Travel Training is a nationally acclaimed program that teaches people with disabilities to use public transportation on a one-to-one basis throughout the state of CT. There is no charge for travel training, our program is grant funded by The Connecticut Department of Transportation.
An introductory classroom and/or field experience on public transportation is available to introduce High School students with disabilities to the independence afforded by using public transportation.
For more information, please call the Director of Mobility Services at 203-365-8522, ext. 265 or email.