What We Do
MDAC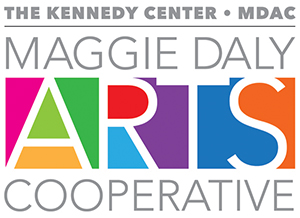 ---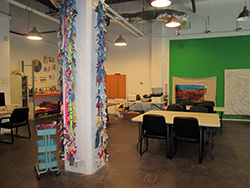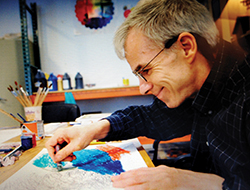 The Kennedy Center's Maggie Daly Arts Cooperative (MDAC) which opened in May 2014 is an exciting and unique new initiative by The Kennedy Center designed to provide an innovative environment where individuals can learn, create and benefit by participating in a multi-faceted arts program.  Located in the Read's Artspace building in downtown Bridgeport, this Arts Cooperative provides unique programming that assists individuals in creative exploration, self-discovery and expansive artistic growth using: Mixed Media, Visual Media, Painting, Music, Dance, Yoga and more!  MDAC's artists with intellectual disabilities have already made connections with neighbors, businesses, universities, museums, and art councils forming innovative partnerships to celebrate the universal language of art.
This Day Support Option program is still accepting applicants on a full time or part time basis. The Cooperative is designed for artists ready to take the step to full participation in the arts both independently and collectively with peer artists and artists in the community. The candidates should have a strong commitment and interest in arts and a sincere desire to engage in the art making process.
If you are interested in a tour or learning more about this program please contact: the Program Manager by email or at 203-690-1609. 
Maggie Daly Arts Cooperative /MDAC, 1042 Broad St (entrance on John St between Nail Salon and Martial Arts Studio), Bridgeport, CT 06604
For more information on MDAC's Art Exhibits and Artists, visit their website www.mdac-kc.org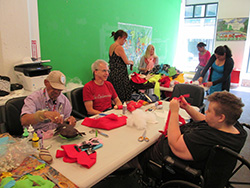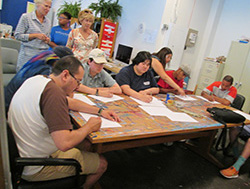 Art Collaborative
After months of waiting for the Grand Opening of The Kennedy Center's Maggie Daly Arts Cooperative, the staff and artists were all anxious to get started on our very first project. A collaborative painting seemed appropriate for our first mission, as a way to encapsulate the spirit of the co-op. As many of us were getting to know each other for the first time, a "getting to know you" method of creating a group masterpiece was devised.
A color key was created that offered a variety of colors for each person to choose from. Next to each color was a corresponding question. As the artists took turns choosing a color, they answered the question and then added their touch to the canvas.
In this fashion, over the course of three days, MDAC staff and artists witnessed a remarkable, spunky, cheerful painting come to life that so perfectly captures all of the personalities that we've gotten to know.
With this painting, the "ribbon" has been cut, the ground broken, and the paint splattered! We here at MDAC are greatly excited and so very eager to be here, paving the way for all future MDAC artists to come.