Internships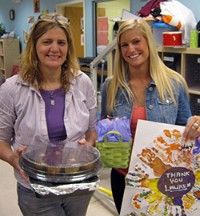 The Kennedy Center offers a competitive internship program for students enrolled in an accredited college or university. Our internship program complements formal course work, testing theory with practice, and combining internship experience with the student's classroom curriculum. An internship gives the student a chance to explore career paths and gain hands-on experience in a multi-faceted rehabilitation agency. The purpose of The Kennedy Center's Internship Program is to provide an opportunity for students to apply the theories they have been taught in the classroom and use these skills towards their internship while gaining valuable experience in a multi-faceted rehabilitation agency.
As part of the Internship Program, the student receives direct supervision and evaluation by an agency staff member who specializes in his or her field. Opportunities are provided for students to work directly on a one-to-one basis with persons with special needs and/or disabilities, as well as in groups. Requirements established by the referring university or school is incorporated into the individual's internship experience. Since we serve many towns in Fairfield and New Haven Counties, students will not have to travel far from home or school to intern at a nearby Kennedy Center program. Internships are available during the academic semesters and also during the summer. Summer internships are available on a part-time or full-time basis.
For more information on internship opportunities, please call 203-365-8522, Ext. 2044 or email. Please Click Here to view a short video from one of our interns.
A typical internship may include the following:
For undergraduates internships last about three months beginning in the fall and continue through the school year.
Graduate student internships can last up to two academic semesters.
Interns can obtain academic credit.
Interns will be provided with an on-site supervisor in a structured environment.
Interns will be responsible for keeping track of their internship hours and special projects (if applicable) and for submitting them to their college or university as well as the agency.
Promotes academic, career, and/or personal development.
Some of the internship opportunities available at The Kennedy Center include:
Adaptive Technology Specialist
Alzheimer's
Art Therapy
Autism
Behavioral Services
Children's Services
Community Experience Internship
Computer Programming
Curriculum Development Internship
Film Internship
Human Services
Job Development
Marketing
Music Internship
Nursing
Psychology
Rehabilitation Counseling
Social Media
Special Education
Therapeutic Recreation
Independent Internships
Individuals who wish to gain experience in a chosen field can explore these opportunities by participating in an independent internship. Independent internships are not affiliated with their school curriculum and would be required to commit to a required number of hours depending upon the program/site. The student would need to commit to at least 60 hours over several months and have a specific goal or project to complete.
The Kennedy Center is pleased to have worked with students from:
Sacred Heart University
Southern Connecticut State University
Fairfield University
Albertus Magnus College
Quinnipiac University
University of Bridgeport
Marist College
Housatonic Community College
Gateway Community College
Western Michigan University
University of Connecticut
Springfield College
St. Joseph College
Marrakech
The Key's To A Successful Internship
The key to finding an internship that's right for you is preparation and to start the process in a timely process. An Intern Application and three Personal References are required for all potential interns. Interviews and orientation are also required for all new interns.
A Few Words From Our Interns At The Kennedy Center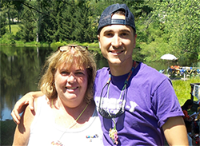 "I was able to gain experience in the field, see life through an ATR's eyes, and work with many different (and talented!) types of people."
Emily Ameral – C.W. Post
Art Therapy Intern
"My supervisor Emma Genster was the best adviser. I had so much fun with her. She made me feel very comfortable here."
Alexa Babbin – Staples H.S.
Independent Children's Services Intern
"I enjoyed my internship a lot! My supervisor made me want to work with people with intellectual disabilities even more. It also made me feel good
about my career choice."
Lauren Veneri – St. Joseph College
Current Kennedy Center Employee – Opportunities Unlimited
"I am very grateful to The Kennedy Center for allowing me to participate in the internship program. Katie Fisher was kind and caring, overall an excellent supervisor."
Mary McDowell – Post University
Project Twenty (Community Experience Program)