Advocate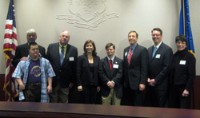 FIND YOUR REPRESENTATIVE
Connecticut General Assembly House of Representatives State Senate Town by Town Listing
To send an email to your legislator or to the Governor on the 2017 Proposed DDS Budget Cuts, CLICK HERE.
To send an email on Supporting House Bill 5128, CLICK HERE.
If it wasn't for advocacy, people with intellectual and developmental disabilities would still be warehoused in institutions. Nothing is more essential to ensuring meaningful, productive lives in the community for people with disabilities than strong, consistent advocacy. Today The Kennedy Center serves more than 2,000 people in Fairfield and New Haven counties. More than 75 percent of our funding comes from government, so it is absolutely essential that the people who care about the people we serve make their voices heard with their elected officials. The best way for other friends and supporters to join our advocacy efforts is to advocate with us and write your local and state elected officials. Together we have built an amazing system of services for people with intellectual and developmental disabilities. With your help advocating, we can improve it, and ensure that it continues to meet the needs of the people we serve into the future. For more information on advocacy and how you can help, please contact the Vice President of Development at 203-365-8522. Ext. 229 or email.