Frameworks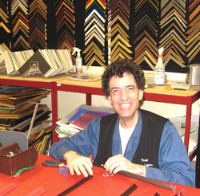 Frameworks, a division of Kennedy Industries, is a quality custom framing business located at
The Kennedy Center
39 Lindeman Drive
Trumbull, CT.
Hours:
Monday & Tuesday 8:30 - 4:30
Wednesday 8:30 - 4:00
Thursday 8:30 - 2:00
It is always best to call before you come in!
Pricing is very competitive with QUICK turnaround time.
We will frame almost anything from needlework, diplomas, t-shirts, paintings, watercolors, photographs, posters and more!
We offer an exceptional selection of over 500 wooden and aluminum frames plus more than 400 matt colors and sizes. Laminating services are also provided.
Frameworks has an extensive customer base and is used by many local businesses, and residents.
"I have always received great service and the finished product is outstanding!"
Quote from Customer Susan Taylor
Contact:
The Kennedy Center Frameworks Manager
Telephone: 203-332-4535, ext. 240
Email