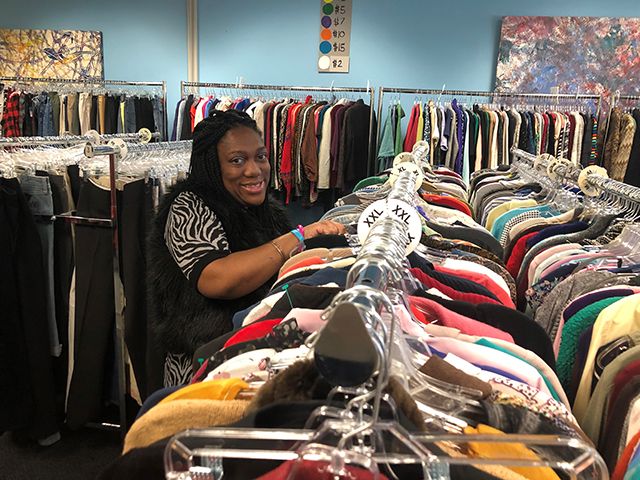 Palm & Able is hosting monthly pop-up shops throughout the community. See our Events Calendar for the latest! 
Currently operating at 2323 Barnum Avenue in Stratford!
Palm & Able is a Kennedy Center social enterprise employing people of all abilities. Formally known as the Kennedy Center Community Store, Palm & Able currently hosts monthly pop-up shops and operates out of The New and Nearly New Thrift Shop in Stratford.
Check our events calendar for upcoming Pop-up Shops. 
The store's name, Palm & Able, is a nod to the abilities of the people we support and honors the nearly 70-year legacy of The Kennedy Center. Founder Evelyn Kennedy lived on Palm Street in Bridgeport, where she hosted the first parent meetings that would lead to the creation of The Kennedy Center.
Every time you shop with us, you support opportunities for people with disabilities and barriers to employment.
---
 Are you cleaning out your closet or home? We can always use new merchandise for our social enterprise. 
We are currently accepting all clothing for men, women and children, small housewares, shoes, costume jewelry and accessories.
DONATION DROP OFF LOCATIONS: 
The New and Nearly New Thrift Shop: 2323 Barnum Avenue, Stratford, Monday-Friday: 9:30-5 p.m. and on Saturdays, from 10-3 p.m.
The Kennedy Center: 39 Lindeman Drive, Trumbull: Monday-Friday 8 a.m.-4 p.m.
Call the store at 203-377-5669 or email us with questions.
---
The Past and the Future of our Store
The planning for this new business model began when The Kennedy Center Auxiliary suggested a transition in ownership of  The New and Nearly New Thrift Shop. The volunteers at the Auxiliary have run the shop for the benefit of The Kennedy Center's services and programs.
The transition presented unique opportunities to expand employment options for individuals of all abilities and create stronger community connection through a new social enterprise. 
Thanks to a national grant challenge and pledges of generous donors, we were able to launch the store in June 2019. 
The Kennedy Center is working toward the goal of creating 40 local jobs, providing hands-on career skills training and serving as an interactive showcase for our neighborhood artists.  The store represents the power of diversity in enhancing the fabric of our local community. 
Our permanent storefront location will include an arts-centered cafe, featuring the work of The Kennedy Center's talented artists. 
Customers will soon be able to shop upcycled clothing, housewares, accessories and one-of-a-kind artwork online. Palm & Able's e-commerce storefront will launch in the near future. 
Stay Tuned!