The Community Opportunity Store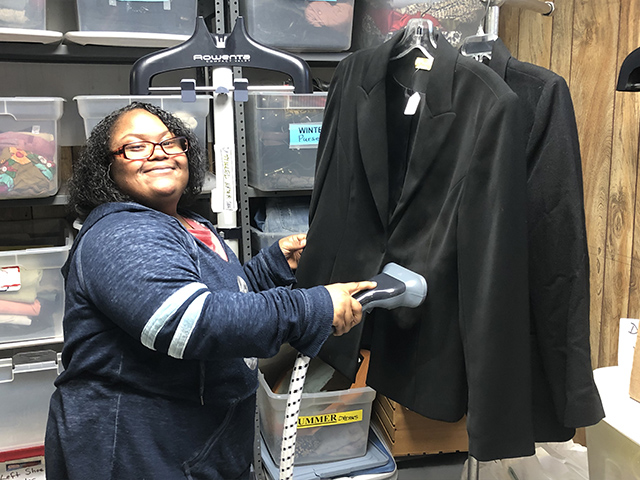 We're Open at 2323 Barnum Avenue in Stratford!
The Kennedy Center community store, selling upcycled clothing, housewares and more, is open for business at The New and Nearly New Thrift Shop on Barnum Avenue in Stratford.
Previously run by the dedicated volunteers of The Kennedy Center Auxiliary, management of the store was handed over to The Kennedy Center in June 2019, marking the official launch of an exciting dual bottom-line business, employing people of all abilities. The Barnum Avenue shop is a temporary location for our growing community store.
We are currently welcoming both shoppers and donations to our 2323 Barnum Ave. location. 
 Are you cleaning out your closet or home? We can always use new merchandise for our social enterprise. 
We are currently accepting all clothing for men, women and children, small housewares, shoes, costume jewelry and accessories.
DONATION DROP OFF LOCATIONS: 
The New and Nearly New Thrift Shop: 2323 Barnum Avenue, Stratford, Monday-Friday: 10:30-6 p.m. and on Saturdays, from 10-3 p.m.
The Kennedy Center: 39 Lindeman Drive, Trumbull: Monday-Friday 8 a.m.-4 p.m.
Call the store at 203-377-5669 with questions.
---
The Past and the Future of our Store
The planning for this new business model began when The Kennedy Center Auxiliary suggested a transition in ownership of  The New and Nearly New Thrift Shop. The volunteers at the Auxiliary have run the shop for the benefit of The Kennedy Center's services and programs.
The transition presented unique opportunities to expand employment options for individuals of all abilities and create stronger community connection through a new social enterprise. 
Thanks to a national grant challenge and pledges of generous donors, we were able to launch the store in June 2019. 
The Kennedy Center is working toward the goal of creating 40 local jobs, providing hands-on career skills training and serving as an interactive showcase for our neighborhood artists.  The store represents the power of diversity in enhancing the fabric of our local community. 
Our permanent storefront location will include an arts-centered cafe, featuring the work of The Kennedy Center's talented artists. 
Customers will soon be able to shop upcycled clothing, furniture and one-of-a-kind artwork online. The store's e-commerce storefront will launch in the near future. 
Stay Tuned!