Adopt-a-Home Program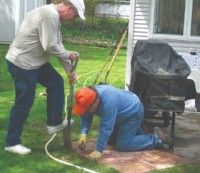 The purpose of The Kennedy Center "Adopt-A-Home" program is to provide a vehicle by which civic, corporate and other volunteer groups accomplish a task at one of our homes that helps make a difference in the lives of the people living there. The Kennedy Center is committed to improving our group homes that are operated and maintained throughout Fairfield and New Haven counties. Through the "Adopt-A-Home" program, volunteers help improve and maintain these residences while contributing to the overall sense of security and well-being for our individuals.
Our "adopters" have taken on projects that range from landscaping and painting to building gazebos and decks. If you want to be a "hands on" adopter and have the skills for painting, landscaping, plumbing or other "trades-type" knowledge, we have a home for you. It is also a great way to effectively promote teambuilding and camaraderie within a group or corporate environment. The opportunities are endless when it comes to making a difference in the lives of others.
EXPECTATIONS OF SPONSOR:
A commitment of one year

A cash or in-kind contribution of at least $2,000/year

Provide volunteers for at least one work project during a twelve-month period

Provide a designated contact person

A feeling of great pride and accomplishment by viewing firsthand the smiles and expressions of appreciation from the residents of the adopted home

EXPECTATIONS OF THE KENNEDY CENTER:
Plan and implement one work project involving the sponsor during the twelve-month period

Sponsor recognition on the agency website and in newsletter

Provide the sponsor with a list of needs on a regular basis

The group home supervisor will serve as the primary contact.

For Information on the Adopt-A-Home program:
Download our Adopt-a-Home Brochure
please contact The Kennedy Center Vice President of Development at 203-365-8522, ext. 2049 or email.