The 68th Annual Meeting and Awards Dinner will be held Thursday,  April 4, 2019, recognizing and celebrating "The Power of Purpose" with Keynote Speaker and International Advocate John D. Kemp, Esq. 
The Annual Meeting & Awards Dinner is a time to honor and congratulate our winners and our dedicated employees. If you would like to personally congratulate our winners with a gift and message, we've made it simple for you. Simply click the name of the winner you wish to congratulate. 
Congratulations to our 2019 Award Winners:
Community Partner Award - ShopRite of Derby
Employer of the Year - Premier Graphics
Employee of the Year - Everett Harkins
Bob Brown Volunteer of the Year - Reginias Davis
Direct-Support Professional Empowerment Award - Tracy Ernst
Employee Impact Award - Renee Lucas
Communications Service Award - Cara Mocarski
James Rebeta Achievement Award: Monique Webb
The Kennedy Center will also be honoring our Employees with 20-plus years of service. Click to see their names and make a special gift in their honor.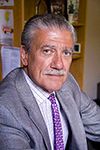 Keynote Speaker John Kemp is President and CEO of The Viscardi Center,  a non-profit organization providing a life span of services that educate, employ and empower people with disabilities.  As a person with a disability who uses four prostheses,  Mr. Kemp is a renowned, sought-after global speaker. Among his many achievements is co-founding the American Association of People with Disabilities with Paul G. Hearne in 1995.

The Annual Meeting and Awards Dinner will be held at the Bridgeport Holiday Inn, starting with a Social Hour at 6 p.m. and dinner at 7 p.m.

The evening includes  Annual Awards to selected businesses, volunteers, staff and individuals for their outstanding personal achievements and contributions as employers, role models and employees.
EVENT HISTORY: Following the by-laws requirement for The Kennedy Center as a 501 (c) (3) agency, an Annual Meeting has been held by the organization since 1951. Each year, along with the business meeting, awards are presented to Kennedy Center individuals who have shown outstanding personal achievements; volunteers and local businesses who have shown exemplary support to individuals with disabilities and the agency; and to staff who have gone above and beyond their responsibilities and made a significant impact to either the individuals we serve or to the agency. It is a joyful and uplifting event that inspires everyone that attends.