Corporate / Foundation Partnerships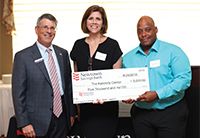 Why partner with The Kennedy Center?
The success of The Kennedy Center depends upon building and maintaining positive relationships throughout the community. By partnering with us, corporations can make a real difference in the lives of the many children and adults with disabilities and their families who are part of our community. People with disabilities are not the only ones that will benefit from your company's involvement – your support can boost company morale, promote team building, strengthen your company's image and more!
How to Partner
• Become a corporate sponsor at one of our special events: Corporate sponsors receive exposure to key markets and extensive marketing benefits through our partnership with the media.
• Cause Marketing: Get creative in inviting your customers to support The Kennedy Center! Successful partnerships include donating a percentage of sales from a product, cash register campaigns, donation jars and round-up your purchase campaigns.
• Lunch and Learn: Invite The Kennedy Center to come to your office to speak to your employees about services and ways to get involved. Also, be sure your Human Resources department is prepared to direct employees in need of support to The Kennedy Center.
• Giving: Promote your matching gift program and offer a payroll deduction option for employees to contribute to The Kennedy Center.
• The Corporate Volunteer Program: Volunteer in a Kennedy Center program for the day as an individual or with your colleagues; create a unique team building experience in The Kennedy Center Adopt-A-Home program; or volunteer at one of our events.
• Link to our Website: Something as easy as linking our website on your site can have an immediate 2-fold effect. It can strengthen your company image and raise awareness for people with disabilities.
To learn more about partnering with The Kennedy Center or to create a unique partnership with us, please contact The Kennedy Center Vice President of Development at 203-365-8522, ext. 2049 or email.