Kennedy Employment Services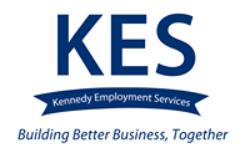 Specializing in Recruitment Assistance and Retention Support
All of these services are at no cost for an employer. In our economy, businesses need to focus on conducting their business in the most efficient and cost-effective way possible. Why Us?
Save time: Save money
We select and present you with the best candidates for the job.
Every business has limited resources, and every manager has limited time: we take the time so you don't have to which allows you to focus on your core business.
We offer incentives such as On-the-job-training (OJT), Working Interviews, and Work Evaluations. These options give employers an opportunity to see our clients in the workplace to ensure that they are indeed, a good match for the position.
All of these services are free for an employer. In today's economy, how many agencies offer high quality services that are free?
Tax Credits Available
Companies may receive up to a $2,400 Federal Tax Credit for hiring an individual from our agency.
Companies such as Wal-Mart save millions of dollars in Federal Taxes through the use of this incentive.
The 8850 Form must be filled in and the original mailed and received by the CT DOL within 28 days of hire.
Companies will also be asked to complete:
Individual Characteristic form and Authorization for Disclosure
These forms should be mailed in as soon as possible.
Companies have up to 10 years to use this credit. Speak with your accountant to determine the best time to make use of the tax savings.
For more information please call Kennedy Center Marketing and Employment Relations Manager at 203-365-8522, ext. 240 or email.
Testimonials
"As a business manager, I have found Kennedy Employment Services to be responsive to my employment needs. The staff has been available to assist their clients with training support and follow up support while they grow into the job position. I recommend giving The Kennedy Center a try for your employment needs."
Heather Camacho
General Manager
Milford Lodge
Milford, CT
"Our experience with working with Kennedy Employment Services was one of the most positive and successful projects here at Anton/Bauer Inc. They were professional / organized and timely in getting the job done right the first time. I would highly recommend them."
Sally Sachse
Inside Sales
Supervisor, Sales Administration
Anton/Bauer, Inc.
Shelton, CT
"During the past several years the Campus Operations Department of Sacred Heart University has enjoyed the services of two Kennedy Center clients. These men have become an integral part of the Operations staff and have inspired others by their dedication to their work tasks, and their evident joy in being a part of the Operations work force."
Trigona Mililli
Operations Manager
Sacred Heart University
5151 Park Avenue
Fairfield, CT 06825
Ed Dobransky
Manager Support Services
Sacred Heart University
5151 Park Avenue
Fairfield, CT 06825