Kennedy Employment Services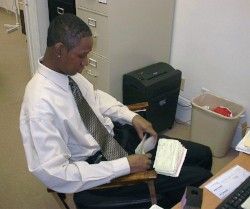 Hire a KC Team Member – It's a Win-Win!
Do you have a slot you need to fill – with an eager, enthusiastic, dedicated employee? Look no further than The Kennedy Center. We have qualified candidates in many job categories ready to work hard at your business. Just give us the job specs and our professional staff will take it from there, providing ideal candidates for the position. And here's a great benefit – The Kennedy Center professional job placement services are at no cost!
Call The Kennedy Center Marketing and Employment Relations Manager at 203-365-8522, ext. 2053 or email for more info.
Extra bonuses come your way – also at no cost!
• On-the-Job Training
• Working Interviews
• Work Evaluations...giving employers an opportunity to see The KC-Team in action to ensure the right fit.
Tax Credits Available
When you hire a KC Team member you may receive a Federal Tax Credit of up to $2,400
• Complete form 8850 and mail it to the CT Dept. of Labor within 28 days of hire
• Complete an Individual Characteristic Form (ICF) and Authorization for Disclosure
Save time and money – put The KC Team to work for you!
Testimonials
"As a business manager, I have found Kennedy Employment Services to be responsive to my employment needs. The staff has been available to assist their clients with training support and follow up support while they grow into the job position. I recommend giving The Kennedy Center a try for your employment needs." Heather Camacho General Manager Milford Lodge Milford, CT
"Our experience with working with Kennedy Employment Services was one of the most positive and successful projects here at Anton/Bauer Inc. They were professional / organized and timely in getting the job done right the first time. I would highly recommend them." Sally Sachse Inside Sales Supervisor, Sales Administration Anton/Bauer, Inc. Shelton, CT
"During the past several years the Campus Operations Department of Sacred Heart University has enjoyed the services of two Kennedy Center clients. These men have become an integral part of the Operations staff and have inspired others by their dedication to their work tasks, and their evident joy in being a part of the Operations work force." Trigona Mililli Operations Manager Sacred Heart University 5151 Park Avenue Fairfield, CT 06825