Kennedy Document Services

One Stop Solution for All Your Document Needs
For a free quote, please call 203.375.5500 or email.
KENNEDY DOCUMENT SERVICES (KennDOC) combines Document Conversion Services with comprehensive Mail Fulfillment Services, making it your one stop solution for handling all your document needs. We can convert a variety of hard copy document formats into easily stored, readily accessible industry standard digital images on hard drive, flash drive, or optical disks. KennDOC also has the capacity to securely shred all your materials, or move them to protected off-site storage. KennDOC can conveniently schedule to pick-up and transport your files to our dedicated facility.
CELEBRATING POTENTIAL - KennDOC, as a division of The Kennedy Center, supports the hiring of individuals with disabilities and believes that our business is enriched by diverse and committed employees that value work and the right to employment.
Address: 225 Research Drive, Milford, CT 06460
WHAT WE DO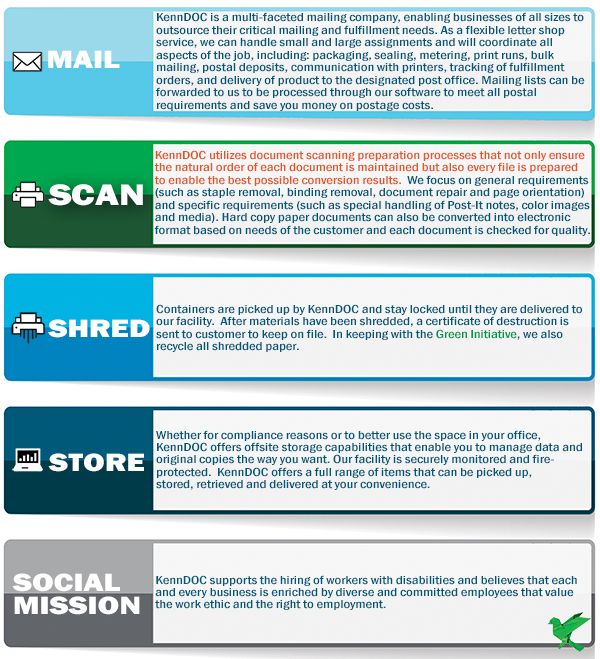 BENEFITS OF DOCUMENT CONVERSION
Reduce Space - Free up office floor space for more productive use.  Eliminate offsite storage costs.
Improve Access - Locate all your documents quickly and allow convenient access to your documents away from the office anytime.
Improve Security - Digital documents can be easily stored in a secure location with limited access.
Improve Responsiveness - Decrease time to find documents and reduce customer wait times.
Increase Customer Service - Allow customer or client self-access to relevant documents, increasing satisfaction and relieving staff costs.
Reduce Storage Costs - Storing documents requires folders, boxes, shelving and labor.
Environmentally Friendly - Converted paper documents can be shredded and recycled.
Disaster Preparation - Mission critical digital documents can be located offsite, protected from natural disasters, such as flooding and fire, speeding business recovery.
CLICK HERE to access our Document Conversion Value Calculator
CASE STUDY
Problem
The Kennedy Center, like many large corporations, had created large amounts of paper documentation over many years to support the management and reporting on their various activities.  In addition to file cabinets filling office space across many sites, they had contracted for seven shipping containers to hold overflow, monopolizing the parking lot.
Solution
The Kennedy Center leveraged KennDOC to digitize their consumer and transportation records.  Over two years, KennDOC scanned and disposed of tens of thousands of files per month, with electronic copies now indexed, searchable and made instantly available through the company intranet.
Benefits
Files are instantly available online and valuable space has been freed up for parking. The Kennedy Center continues to process archived files.