Supported Employment Team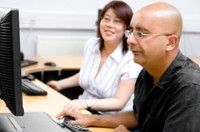 At The Kennedy Center we understand that a reliable and efficient work force can be the cornerstone to a successful business venture. We also believe that Celebrating Potential means believing that every person with a disability has the potential to be your next solution to an employment need. Therefore, The Kennedy Center Supported Employment Team (S.E.T.) works every day to create viable and socially responsible partnerships with local businesses to meet their employment solutions through direct hires, temporary hires, and/or hires with on-site support.
Our values and strengths include:
Cost-effective Solutions
High Quality Standards
Reputation for Integrity
Small Work Crews with Complimentary Skills
Innovative Job Matching
Socially responsible Value System
Dignity of Work
Employment Opportunities for All
Companies can rely on us to meet short and long term solutions to their workforce.
We offer (3) models of service:
Direct Hires: The S.E.T. employment manager will meet with your business HR personnel to pre-select candidates for direct hire employment. Where desired, an initial "working assessment" can be scheduled with no cost to the employer. Once hired, the S.E.T. employment job coach can remain on sight to assist in orienting and initially training the new employee. In addition, the S.E.T. manager or job coach will remain, as needed, as a long term resource for mentoring, assisting with learning new jobs or performance issues.
Temporary Hires: In good times and bad times, a temporary work force can be the right solution for your business. All temporary work crews are accompanied by a S.E.T. employment job coach trained in responding to the unique production needs of your company. Our temporary employment work crews are pre-selected by our employment team and are available for short and long-term temporary placement. Avoid the hassle of placing short-term employees on your payroll by allowing us to charge you one flat rate per hour. Recent customers benefiting from our temporary work crews have included: People's United Bank, Bridgeport Trade & Technology Center, Anton/ Bauer Inc. and Expand International of America.
Work Crew Hires with On-site Supports: New ventures, long term products, secondary functions and front or back office work are all examples of assignments that we can assume within your company. In addition, we always provide a free on-site employment job coach to over see the production and quality control expectations of the job assignment. We offer you a minimum crew of (3) and a maximum crew of (10) and provide initially free increased supervision during the initial stages of the long-term assignment. A one-stop contract option is available, rather than a direct employment relationship.
For further information, please contact The Kennedy Center Marketing and Employment Relations Manager at 203-365-8522, ext. 240 or email.