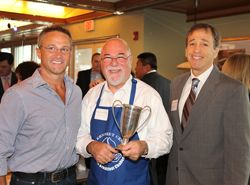 More than 100 area businesspeople started the day recently with a friendly competition to network and rally support for the Kennedy Center. Fairfield residents Steve Habetz, Vice President of DRB Mortgage in Westport, and Dimitri and Donna Alatakis, co-owners of the Circle Diner in Fairfield, were the returning co-chairpersons of the event. The Seventh Annual Business Breakfast Challenge raised over $12,000 for persons of all ages with disabilities and special needs served by the Kennedy Center. Dimitri and Donna Alatakis of Fairfield underwrote the breakfast.
"The Challenge has raised over $72,000 since its inception and has made a great difference in the lives of our nearly 2,000 clients," said Martin D. Schwartz, President and CEO of The Kennedy Center. "We want to thank Donna and Dimitri Alatakis and the Circle Diner for their ongoing support in making this event such a great success."
Team captains donned aprons and served breakfast prepared by the diner. During
the power breakfast, many area dignitaries stopped by to support this charity event,
including: First Selectman of Fairfield, Mike Tetreau; First Selectman of Trumbull, Tim Herbst, State Reps. Brenda Kupchik, Tony Hwang and T.R. Rowe; State Senator John McKinney and Judge Dan Caruso.
Top honors for the breakfast went to CB Richard Ellis in Stamford. Fairfield resident Mike Siegel was the chairman of the team, which has won the champ trophy four times. His team brought in the highest donation total of all participating teams. The 2011 winner will be recognized at next year's breakfast.
Other teams in the breakfast included: Cavanaugh-Broadhurst, Shaughnessey-
Banks Funeral Home and Team Habetz, all of Fairfield; GE Capital of Norwalk, People's United Bank of Bridgeport, Smith & Company of Shelton, Trumbull Republican Town Committee, Weston Wealth of Westport, Trumbull Republican Town Committee and State Reps. Hwang and Rowe.
Rep Tony Hwang praised The Kennedy Center for its work, "The array of
services the Kennedy Center provides is invaluable not only for its clients, but also their families and our community. The Kennedy Center empowers people with intellectual disabilities with the skills and opportunity to lead a productive and fulfilling life. We must support and sustain this local jewel in our community."
Rep T.R. Rowe added, "The Kennedy Center is a wonderful organization which offers vital services to many of our neediest citizens. They do this with limited
state funding and both need and deserve our financial support."
Committee members who organized the event were: Randye Kaye and Ben
Strong, both of Trumbull, Nancy Habetz of Fairfield, Jo Ann McMullan of Westport,
Tiffany Sikorsky of Milford, and Stephen Smith of Shelton.
This year's Business Breakfast Challenge coincided with the National Rehabilitation Awareness Celebration in September. Joan Nassef, Marketing and Employment Relations Manager at The Kennedy Center, spoke about the many advantages of hiring people with disabilities, including tax incentives for employers. In addition, other morning breakfast speakers included: Trigona Mililli, Head of Custodial Services from Sacred Heart University in Fairfield, Heather Camacho, General Manager of the Milford Lodge; and Randye Kaye, parent and author of "Ben Behind His Voices."