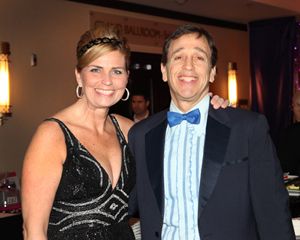 The Kennedy Center's Cabaret 21 was an extraordinarily memorable event at the Trumbull Marriott. Beyond all the glitter and glam, from the fringed tablecloths and lampshades to the shimmery costumes, the event reached several key milestones.
Cabaret 21 was noteworthy because in over 21 years more than $1 million dollars was raised for the benefit of Children's Services Programs at The Kennedy Center. In addition, Cabaret founder and chair Christine Brown of Fairfield, bid her final farewells to the crowd of 300 guests as she stepped down as chair of this highly successful fundraiser. Brown cochaired this year's popular winter event with Christine Vagnone of Fairfield, who will be chairing next year's Cabaret.
This year's two-act show, "Motown Mania," was a nostalgic trip down memory lane from the '70s. Connecticut and New York actors and actresses entertained the enthusiastic crowd who often clapped and swayed to the Motown beat. Standout numbers included "Never Could Say Goodbye," "Stop in the Name of the Love," "My Girl," and "Sitting on the Dock of the Bay."
Cabaret 21 contributed $60,000 for the Children's Services Programs at The Kennedy Center, including a new Children's Center. Since its inception over 15 years ago, Children's Services has not had a place to call its own. Over 500 area children and their families are currently served by this greatly expanded program.
This month, The Kennedy Center will be opening a new location on Main Street in Stratford that will centralize all Children's Services. This new center will feature an outdoor play area, a sensory/relaxation room, kitchen, two program rooms, art therapy room and computer lab.
Cabaret sponsors who contributed generously included: Koskoff, Koskoff & Bieder, PC and Merit Insurance at the silver level; Donahue & Brown, LLC at the bronze level; and Foundation for Life and UnitedHealthcare at the signature level.