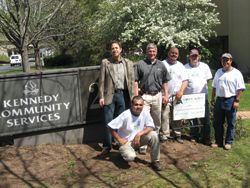 A talented crew from Green Acres Landscape & Design, LLC, recently worked their green thumb magic at the headquarters of The Kennedy Center, when they beautified an expansive landscape that surrounds the entire building. Six employees from Green Acres toiled from sunrise to sunset to weed, trim, edge, plant and mulch the grounds around the Reservoir Avenue building in Trumbull.
Green Acres, based in Wilton and Monroe, generously donated manpower and materials. The company worked on this volunteer project as part of the national PLANET Day of Service. The Professional Landcare Network (PLANET), a national lawn and landscape association, held a nationwide Day of Service on April 20. Members of PLANET organized volunteer lawn and landscape projects in communities across the country, including Fairfield County. That same day, six other Green Acres employees also completed a landscape makeover at St. Francis Church in Weston located at 35 Norfield Road.
According to Craig Kopfmann, President of Green Acres, "Our crew was very excited to use their landscape skills to transform the property into something spectacular. We selected the Kennedy Center as one of our site projects because many of our clients suggested we contact them. As a major non-profit agency in the region, we knew they would benefit greatly from this community project." Green Acres has been in business for over 22 years and specializes in design planning, installation, residential and commercial landscape and specialty design projects.
"All our employees and clients are thrilled with the fabulous new landscape," said Martin D. Schwartz, President and CEO of The Kennedy Center. "We want to personally commend Green Acres for their talented staff, professionalism and creativity. Everyone who visits our headquarters notices the dramatic change to our property and grounds. Green Acres did an outstanding job."
PLANET is the association of members who create and maintain the quality of life in communities across America. With approximately 3,800 member companies and affiliates, these firms and their employees represent more than 100,000 green industry professionals. Some of these professionals have taken the extra step of becoming certified through PLANET and bear the distinction of being known as Landscape Industry Certified.