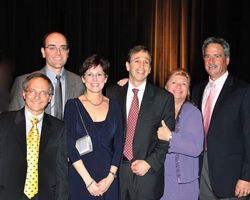 Over 300 guests stepped out on the town to support a major autism benefit in the region. The Sixth Annual Magic Moments fundraiser for The Kennedy Center had many magical, memorable moments: a concert performance by Ben Taylor, exquisite food served by Celebrations by Carlson, and fine wines and spirits provided by Moet Hennessy USA and Harry's Wine & Liquor Market in Fairfield.
Ben Taylor, son of Carly Simon and James Taylor, captivated the crowd at the Quick Center for the Arts at Fairfield University on March 24. He played songs for all musical tastes, from rock and pop to folk and hip-hop. His accomplished acoustic guitar playing and insightful, honest lyrics resonated with the crowd, who also appreciated his spontaneous sense of humor.
After his moving, emotionally charged performance, Ben Taylor and his band attended a Black Box after party. Guests were thrilled to meet this charismatic artist in person and crowded around him for keepsake autographs.
This popular fundraiser serves as the main funding source for autism programs at The Kennedy Center. This year's well-attended event netted over $113,000. Cindy and Jeff Dworken of Easton, the new co-chairs of Magic Moments, were instrumental in its success.
Autism programs offered by the Kennedy Center have expanded greatly over the past six years due to high demand. In fact, more than 400 local families have participated in The Autism Project.
Special thanks to all our generous sponsors, especially, the top sponsor of the evening, Cindy and Jeff Dworken of Easton. Another big supporter was Carol and Mike Dworken of Fairfield at the Ring of Fire level. Magic Hat sponsors included: Susan and Frank Carroll of Wilton, Joy and Paul Horton of Fairfield and Morris Media Group. At the White Glove level were Kristine Andres and her husband Dr. Pietro Andres of Fairfield, and Lindamood-Bell.
At the next level, Silver Ring sponsors included Chip's Family Restaurant, Lynn and Steve Cohen of Stamford, Cognizant Technology Solutions, Susan Frieden of Greenwich, Donna and Glenn Hascher of Stamford, Investmark Advisory Services, Joanne and Richard Krantz of Fairfield, Diana Paulin and her husband Michael Lynch of Stratford, Pediatric Healthcare Associates, Inc., Deb and Chip Rubenstein of Milford, and Donna and Mark Stern of Easton.
Established in 2006, The Autism Project supports children with autism spectrum disorders and their families. This program provides children and families with information referral and resources; family support and service coordination, financial assistance, support for children in community activities, behavioral services, and new services for unmet needs within the community.
Most recently, The Kennedy Center established a new Day Support program for the growing number of young people with autism that are transitioning into adulthood. Plans are also underway for a second Day Support program to open by early June. In addition, two new Social Activity Groups are being added for young transitioning adults.
For more information about the Kennedy Center's Autism Project call 203-332-4535, ext. 247 or visit the website www.thekennedycenterinc.org.
The Kennedy Center is an internationally accredited, non-profit, community-based rehabilitation organization that currently serves 2,000 individuals annually. The agency actively responds to the needs of the community by offering innovative, comprehensive service options to persons with disabilities and special needs, from birth to senior years. The Kennedy Center operates 21 community experience programs, 16 group homes, an industries program composed of six businesses, supported and competitive employment and job placement services, a family support and respite service, travel training, and a variety of children's programs.