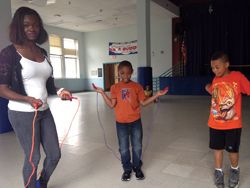 Children with disabilities had a fun and memorable summer thanks to the Fairfield County Community Foundation. The Kennedy Center was awarded a $22,000 grant from The Fairfield County Community Foundation to support its work in the Lighthouse summer programs in Bridgeport.
The Kennedy Center provided expert staff and trained interns for families with children with disabilities who participated in the Lighthouse program. This grant enabled The Kennedy Center to staff and support children with special needs, ages 5 to 13. These programs were located at the following three Bridgeport school sites: Beardsley, Madison and Park City Schools.
This full-day program operated Monday through Friday with early drop off and late pick up options for the convenience of working parents. This five-week program provided a summer reading success and math curriculum program as well as a nutritious breakfast and lunch. Children participated in a variety of extracurricular activities, including music, arts, sports, computers, and trips.
"The Fairfield County Community Foundation is to be commended for recognizing the importance of the Lighthouse summer program in Bridgeport and for making this experience accessible and inclusive for children with disabilities," said Martin D. Schwartz, President and CEO of The Kennedy Center. "Our Kennedy Center staff and trained interns truly enjoyed creating a fun learning environment for children of all abilities."
The Fairfield County Community Foundation promotes the growth of community and regional philanthropy to improve the quality of life throughout Fairfield County. Individuals, families, corporations and organizations can establish charitable funds and contribute to existing funds. The foundation provides philanthropic advisory services, and develops and leads initiatives to tackle critical community issues. It is in compliance with the Council on Foundations' national standards for community foundations. The Foundation has awarded over $135 million in grants to nonprofits in Fairfield County and beyond. For more information, visit www.fccfoundation.org .