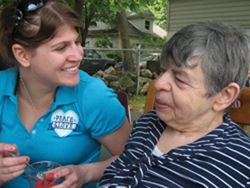 The Kennedy Center has been awarded a $10,000 grant from The Fairfield County Community Foundation to support The Norma F. Pfriem Foundation Alzheimer's Center at Faust Hall in Bridgeport.
This grant will allow The Kennedy Center to enhance its services for the Alzheimer's program that serves up to nine individuals. The Alzheimer's Center is the only facility of its kind in Connecticut that serves people with disabilities. This four-year-old program has filled a huge service gap for aging adults with both an intellectual disability and Alzheimer's disease or dementia.
This generous funding will provide direct support services to individuals with Down syndrome and Alzheimer's disease; help families, caregivers and health providers with education and technical assistance; and increase community awareness, education and support about individuals with Down syndrome and Alzheimer's disease. The Alzheimer's program also offers family caregivers with respite services.
"The Kennedy Center is truly grateful to the Fairfield County Community Foundation for its ongoing commitment to our vital community programs," said Martin D. Schwartz, President and CEO of The Kennedy Center. "The Alzheimer's Center receives minimal state funding yet is necessary for our clients to achieve their optimum participation and inclusion in the community. As the population continues to age and life expectancy increases, especially for people with disabilities, the services we provide are even more important now than ever."
The Fairfield County Community Foundation promotes the growth of community and regional philanthropy to improve the quality of life throughout Fairfield County. Individuals, families, corporations and organizations can establish charitable funds and contribute to existing funds. The foundation provides philanthropic advisory services, and develops and leads initiatives to tackle critical community issues. It is in compliance with the Council on Foundations' national standards for community foundations. The Foundation has awarded over $135 million in grants to nonprofits in Fairfield County and beyond. For more information, visit www.fccfoundation.org .