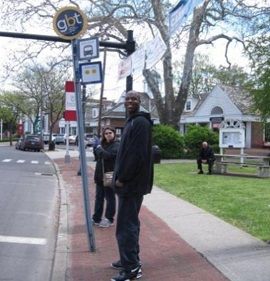 With the help of an Autism Speaks Family Services Community Grant of $25,000, The Kennedy Center developed a travel training curriculum to introduce independent travel on public buses and trains to young adults with autism spectrum disorders.
A great need exists for specialized public transportation training for individuals with autism. To better address this need, The Kennedy Center applied for an Autism Speaks Community Grant to fund a curriculum to introduce young adults with ASD to local bus and rail systems. The final product, A Chance to Ride: Introducing Young Adults with Autism to Independent Travel, is designed to help young adults with autism become more independent by understanding how to safely and effectively utilize the transportation options in their communities.
After an introduction and pre-assessment to evaluate the student's abilities with regard to transportation, A Chance to Ride is divided into six lessons:
1.Interacting with Individuals in the Community
2.Signs and Traffic Symbols
3.Pedestrian Safety and Awareness of Surroundings
4.Preparing for Your Trip
5.Travel Practice
6.Expect the Unexpected: Dealing with the "What Ifs"
After these lessons that focus on introducing and assessing travel readiness for students with ASD, primarily in a group setting, the final section shares some of the expertise gathered over the years to help those using the curriculum to introduce the concept of fully independent use of public transportation to a student with ASD on an individual one-to-one basis.
The curriculum also includes assessments, social stories, dos and don'ts and various activities to use to help the student master the transportation system. Social stories included cover transit and community etiquette, how to read a bus schedule, using a crosswalk light and more! The training has been a great success to all those who have participated in terms of expanding their transportation skills and increasing their independence as a result.
"I was thrilled to discover a program that does such a thorough job of training an individual on the autism spectrum and covers all of the potential issues that may arise," one parent of a trainee said. "This has dramatically increased my daughter's independence as well as her self-esteem. The hardest part was mom and dad letting go - but we are both glad we did!"
"By the time our child took that first 'solo' trip on the public bus, we were confident that the independent travel would be successful, thanks to The Kennedy Center Travel Training Program," said another parent. "The trainer thoroughly covered the basics of public transportation - where to wait, how to pay the fare, when to signal your stop - as well as important lessons about being aware of your surroundings before, during and after the bus ride."