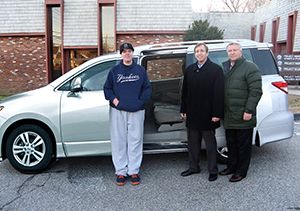 The Kennedy Center maintains one of the largest private, non-profit transportation systems in Fairfield and New Haven Counties. Without its fleet of 145 vehicles, thousands of clients would not have access to affordable and reliable transportation to their jobs and programs.
The Norma F. Pfriem Foundation realizes the importance of the Kennedy Center's transportation network and graciously donated three Quest vans and one Nissan Altima. These new vehicles will help meet the daily transportation needs of people with disabilities.
"The Kennedy Center, one of the largest rehabilitation agencies in Connecticut, is very appreciative of the Norma F. Pfriem Foundation for its continued generosity over the past several years," said Martin D. Schwartz, President and CEO of The Kennedy Center, which is headquartered in Trumbull. "We thank Paul Miller, Chair of this Foundation as well as the other Foundation trustees, for recognizing the importance of our programs to enhance the lives of others. Transportation services receive minimal state funding yet are necessary for our clients to access services and employment. Many of our vehicles have high mileage and need to be replaced. The Foundation's ongoing financial support has been instrumental in helping us meet our transportation needs, which are so vital to our clients' success, especially in the workplace."
Paul Miller, Chair of the Norma F. Pfriem Foundation, added, "I applaud the Kennedy Center for constantly developing new and outstanding programs and services for people with disabilities. The agency has an excellent reputation in the community and is well deserving of our continued financial support. I am extremely proud of everything they have accomplished to help their clients reach their fullest potential."
Five years ago, the Foundation funded The Kennedy Center's Alzheimer's programs, which is now named the Norma F. Pfriem Foundation Alzheimer's Center at Faust Hall in Bridgeport.
The Alzheimer's Center is the only facility of its kind in Connecticut that serves people with disabilities. This program has filled a huge service gap for aging adults with both an intellectual disability and Alzheimer's disease or dementia.