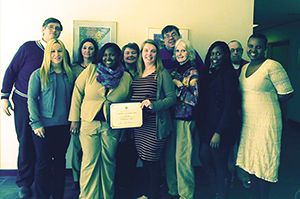 The Kennedy Center, one of the largest rehabilitation agencies in Connecticut, was recently recognized by the Department of Mental Health and Addiction Services (DMHAS) for achieving Exemplary Fidelity status in 2014. Only five of the 30 funded programs in Connecticut attained a score of 115 or above. In addition, The Kennedy Center received the highest score of any agency that qualified in Fairfield County.
The Kennedy Center provides work placement and career development for up to 150 individuals in Bridgeport through DMHAS Work Services, part of Kennedy Employment Services. "We help people with disabilities who are returning to work and/or want to advance their career," said Britt Bisson, the Employment Services Manager at Kennedy Employment Services, a division of The Kennedy Center." "We do it all: find jobs, change career paths, connect with educational resources and advocate on behalf of our clients."
This offsite program is located in the Greater Bridgeport Mental Health Center in Bridgeport. "It's important that this program be community based, so we can access all the resources available to us," added Bisson. "I am extremely proud of our team of 11 professionals, including our highly trained employment specialists and peer mentors, who are being publicly acknowledged for all their hard work."
Kennedy Employment Services (KES) specializes in recruitment assistance and retention support, which are offered at no cost to employers. A team of professionals select and present area businesses with the best candidates for the job. In addition, KES offers incentives such as on-the-job training, working interviews and work evaluations. Companies may receive up to a $2,400 Federal Tax Credit for hiring an individual from KES. For example, Wal-Mart has saved millions of dollars in Federal Taxes through the use of this incentive.
Martin D. Schwartz, President and CEO of The Kennedy Center, added, "The dedicated staff of The Kennedy Center always strives for excellence in everything they do. I want to commend the leadership of Britt Bisson and his team of talented employees in DMHAS Work Services and Kennedy Employment Services. They make a difference in other people's lives by placing individuals in competitive employment. In turn, people with disabilities lead productive lives and become taxpayers and not tax users."