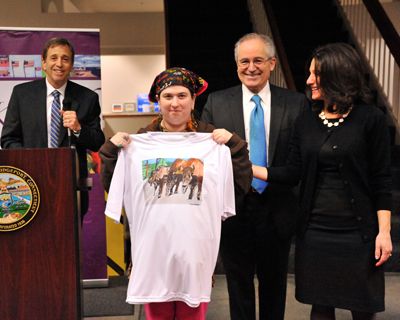 Over 750,000 "Unique Perspective" calendars have been distributed all over the world since The Kennedy Center Calendar was created over 30 years.
Each year the calendar brightens the season with its vibrant artwork and brings joy to the talented artists who are recognized at its reception. "A Unique Perspective" - the 2016 Kennedy Center's calendar - debuted on Wednesday, November 18 at the Gallery@999.
This annual holiday tradition, which began with major support from People's United Bank, has continued through the generosity underwriting of People's United Community Foundation, its major sponsor. The calendar reception featured a light cocktail hour and awards presentation to the artists. Armando Goncalves, Market President, People's United Bank, and Martin D. Schwartz, President and CEO of The Kennedy Center, were among the featured speakers.
The beautiful, four-color calendar highlights The Kennedy Center's Expressive Arts Program and celebrates the potential of all people through its monthly display of talent and creativity.
"We are delighted to continue to distribute the much-anticipated Kennedy Center Calendar, as it uniquely demonstrates the remarkable artistic abilities of Kennedy Center clients," said Armando Goncalves, Southern Connecticut Market President, People's United Bank.
The calendar features the expressive, vibrant works of 20 Connecticut artists with disabilities and illustrates how people with disabilities can be productive, contributing members of their community. Two of the featured pieces include group works from artists who collaborated in a multi-faceted arts program at the Kennedy Center's Maggie Daly Arts Cooperative (MDAC). Located in the Read's Artspace building in downtown Bridgeport, this Arts Cooperative provides unique programming in mixed media, visual media, painting, music, dance, and yoga.
"The calendar has been a wonderful showcase for The Kennedy Center, demonstrating the diverse range of abilities of people with disabilities," said Martin D. Schwartz, President and CEO. "People's United Bank and People's United Community Foundation are exemplary corporate sponsors who have been distributing this popular calendar for over three decades."
Gallery@999 at the Margaret E. Morton Government Center has been transformed into a massive art gallery representing over 60 Kennedy Center artists and more than 70 paintings. The artwork will be on display for public viewing until the end of January.
Artwork featured in "A Unique Perspective" covers a variety of themes ranging from abstracts to still lifes. Each piece reflects the personal interests and feelings of the artists. Some are drawn with whimsy and playfulness and others by the natural expression, directness and simplicity of the works. Still others react to the color explosion and brilliance of the palette as the depths of imagination and creativity are explored.
As individuals, these artists have transcended their disabilities to reveal their own unique style, creative ability and spirit. Many of the artists have had their work published in the calendar for several years.
The color calendar was designed by Meghan Gerety, a freelance artist in Marfa, Texas and a former Connecticut resident, and was printed by Imperial Graphics. of Stratford. To purchase a calendar, please call 203-332-4535, ext. 0, or email kloux@kennedyctr.org.
2016 "Unique Perspective" Calendar Artists
January: Lisa Kellersman – "Colors"
Trumbull
February: Cloresa Francoeur – "Family"
Bridgeport
March: Todd Carboni – "Milk Delivery Truck"
Milford
April: Monica Rodriquez – "Bridgeport"
Bridgeport
May: MDAC Group Painting* – "Movement of the Splatter"
June: Christina Bevans – "Sunset Beach"
Stratford
July: Michael Daly – "Ketchup"
Fairfield
August: Alice Dubois – "A Light on the Ocean"
Stratford
September: Ryan Gall – "Rainbow in my Life"
Stratford
October: Debra Willis – "Pumpkin Garden"
Bridgeport
November: Margaret Pettway – "Lady"
Bridgeport
December: Lisa Ellis – "Holiday Train"
Fairfield
Back cover: Henrik Evenson – "Green, Brown, Yellow"
Southport
Inside cover: MDAC Group Weaving* – "Entangle
*MDAC Artists
Teddy Sutton, Bridgeport
Antonio Gadson, Trumbull
Michael Daly, Fairfield
Robert Robles, Bridgeport
Carmella Vallelunga, Oxford
Azalea Laberee, Bridgeport
Monica Rodriguez, Bridgeport
Rebecca Inwood, Fairfield