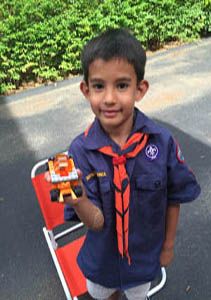 Children of all ages love Legos. That is why Cub Scout Pack 468 from Middlebrook and Frenchtown Schools in Trumbull, has planned a Lego Derby Race at The Kennedy Center Children's Services, 4021 Main Street, Stratford.
Children with disabilities are encouraged to participate in this fun activity, free of charge, on Saturday, July 30 between 2 and 4 p.m. The Kennedy Center has partnered with nearly 30 Cub Scouts, who will team up with children with disabilities. This program is recommended for ages of 5-12.
Parents must stay to watch their children participate; this is not a drop-off event. Lego kits will be provided, including: base plates for cars, weights, and Legos.
Since space is limited, interested parents and their children should respond in advance by contacting The Kennedy Center's Autism Project at (203) 908-3913 or emailing Renee Troxler, Autism Project Manager at rtroxler@kennedyctr.org.
"The goal of each team is to be as diverse and inclusive as possible," said Troxler. "I would like to specially thank Ruth Fontilla of the Cub Scouts for organizing this fun summer activity along with Joe Gargiulo of Pinewood Pro."