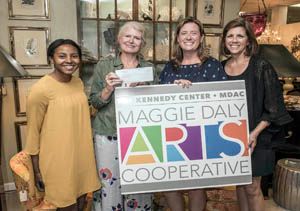 Pictured left to right: Margeaux Dupuy, Fine Art Intern at Black Rock Galleries; Stephanie Campbell, The Kennedy Center's MDAC Manager; Christie Spooner, Managing Partner of Black Rock Galleries; and Jo Ann McMullan, Vice President of Development at The Kennedy Center.
Black Rock Galleries (BRG) in Bridgeport and the Estate of Beverly Lopez recently donated $1,850 to The Kennedy Center's Maggie Daly Arts Cooperative (MDAC) in Bridgeport, which represents 10% of the proceeds from their sale of The Beverly Lopez Collection: A Lifetime's Works.
MDAC specializes in expressive arts and has a yoga/dance studio on site. Some of the activities offered include: visual arts and mixed media, painting, cartooning, photography, weaving, ceramics, music, movement, meditation, and yoga classes as well as outings to museums and art galleries. MDAC, located in downtown Bridgeport, is designed to provide an innovative environment where individuals with disabilities, can learn, create and benefit by participating in a multi-faceted arts program.
"We are very pleased to have received this generous and unexpected donation from Black Rock Galleries, part of Bridgeport's vibrant art community," said Stephanie Campbell, The Kennedy Center's MDAC Manager.
Black Rock Galleries recently offered the public, never-before-offered, original works of art from the estate of Beverly Lopez, a Weston resident.
The Beverly Lopez collection featured an extensive variety of paintings, sketches, and sculptures spanning many genres including equine, religious, African American/Black, illustrations, and ethnic art. All works were original pieces created by Beverly Lopez himself. Because of the vast variety of genres he worked in, Lopez used as many as 30 pen-names including Bev Lopez, Coby, Rob MacQueen, Barzoni, Quintana, Harvey Gilmen, Paul Boren, and TC Morris; just to name a few. Some of his pieces were reproduced by printing companies; many others remained part of his private, personal collection.
Christie Spooner, Managing Partner of Black Rock Galleries, added, "A portion of the proceeds from this sale benefited MDAC, a well-respected, innovative art program affiliated with The Kennedy Center. As a nonprofit arts organization, we wanted recognize the great work of the Maggie Daly Arts Cooperative. which provides individuals with intellectual disabilities an environment to thrive in the arts."