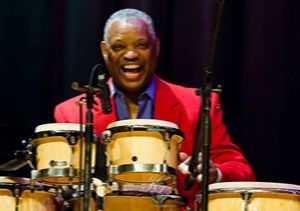 Come enjoy the great sound and rhythm of nine top musicians who are headlining The Kennedy Center's Magic Moments LIVE event on Saturday, March 18. Steve Scales & Friends are featured in this benefit concert for The Autism Project at the Quick Center for the Arts at Fairfield University.
The event kicks off with a mix and mingle, open bar and food stations at 6:30 p.m., followed by the Concert in the Kelley Theatre at 8 p.m. This evening of fun caps off with the Black Box After Party at 10:00 p.m., which includes dessert and drinks plus a Meet & Greet with the band. Tickets are also available for the concert only.
Percussionist Steve Scales, formerly with Talking Heads has assembled a group of renowned artists with special performances by Grammy nominated Nona Hendryx, formerly with Labelle and Talking Heads and Tina Weymouth and Chris Frantz of Talking Heads and Tom Tom Club.
Musicians include saxophonist Dan Cipriano who has performed and recorded with an array of impressive arts including Sting, Springsteen and Bon Jovi, guitarist Andy Abel of Twisted Vine, drummer Benny Gramm, bass Dave Livolsi, keyboard Scott Beckham. Lead vocalist is the talented Keith Fluitt who has worked with such great artists as Quincy Jones, Michael Jackson and Ashford & Simpson.
Opening for this main act is Alena Abramowitz of New Canaan. She has been singing since she was three years old. She also studied piano for nine years and taught herself to play the guitar.
Alena's passion is singing and writing both lyrics and music. She has participated in the New Canaan Middle School and High School Choir for the last eight years. She especially likes to sing to children who she feels she can touch and help with the power of music. Alena will start her college career in the fall, studying voice and composition.
Magic Moments serves as the main funding source for The Kennedy Center Autism Project, which helps more than 500 local children with autism spectrum disorders and their families. The dollars raised at this benefit help The Kennedy Center provide comprehensive programs at affordable rates for all families in the community. This year's event precedes National Autism Awareness Month, which is celebrated in April.
The Red Cape Sponsor is Jeff Dworken and Family of Easton, while the Magic Hat Sponsors are Kristine and Pietro Andres of Fairfield, Mike Dworken of Fairfield, and the Hortons of Southport. In addition, the White Glove Sponsors are the Chris and Liz Blanco Family of Fairfield and Susan and Peter Evensen of Southport. The Silver Ring Sponsors are Mike Lynch of Stratford, Pediatric Healthcare Associates, The Tarian Group LLC / Pillar To Post Home Inspectors - New Haven County and Frontier Communications.
Committee members include: Fairfield residents Kristine Andres, Wendy Bloch, Sarah Blair and Alyson Mandelbaum; Trumbull resident Martin Schwartz; Shelton residents Gina Ciliberto, Dottie Kellersman and Jenn Ocampo; Westport resident Jo Ann McMullan, Wilton resident Brett Campos, Milford resident Lynn McCrystal; Monroe resident Monique Iken; Derby resident Deb Kane and Ariel Gagliardo of New Rochelle, New York.
Established in 2006, The Autism Project provides children and families with direct services, information referral and resources; family support and service coordination, financial assistance, support for children in community activities, wrap-around supports, experienced staff and new services for unmet needs within the community.
According to the latest statistics, 1 in 68 children are diagnosed with an autism spectrum disorder each year – a 30% increase over two years ago. In Connecticut, there are an estimated 52,636 individuals who are ASD – 12,000 under the age of 18. With these numbers, the need for affordable accessible program supports like those provided by The Autism Project is critical in helping children with ASD improve their quality of life and thrive in their community.
"After eleven years, Magic Moments remains the largest funding source for The Autism Project," said Martin D. Schwartz, President and CEO of The Kennedy Center. "We are truly grateful to Steve Scales, an outstanding Kennedy Center volunteer and musician, who has assembled so many internationally known, highly acclaimed artists to support the vital services we offer area families."
Two years ago, Steve Scales first became involved with The Kennedy Center as a college intern. He is in the middle of a major career change and is pursuing a Bachelor of Science in Human Services from The University of Bridgeport. Last year, he completed a 100 hour practicum using his musical and drumming skills. He organized Drum Circles with 45 to 85 Kennedy Center consumers who participate in 14 Community Experience programs.
"Since the drum circles were so well-received, I wanted to do more for the Kennedy Center and organize a benefit concert on a bigger platform," said Scales.
Individual tickets are $125 per person. Tickets can be ordered HERE or call 203.365.8522, ext. 216. Concert only tickets are available at $40 each, either online or at the door. Doors open at 7:30 p.m. and the concert begins at 8 p.m.