The Norma F. Pfriem Foundation Alzheimer's Center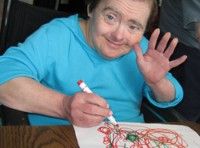 HISTORY
The Kennedy Center has a history of responding to the lifespan needs of people with varying abilities and disabilities by offering innovative, value-enhanced community services. Over the past several years, a new need has arisen as people with Down syndrome have experienced Alzheimer's disease at a far younger and greater rate than the rest of the population. With no services existing specifically for this population, The Kennedy Center opened the first day program of its type in Connecticut in May 2008. With major support from a Connecticut-based foundation, the program was renamed The Norma F. Pfriem Foundation Alzheimer's Center at Faust Hall and rededicated in October 2010.
OPPORTUNITIES
The Norma F. Pfriem Foundation Alzheimer's Center at Faust Hall is specifically designed for people diagnosed with dementia. We offer individuals the opportunity to maintain or regain feelings of capability, dignity and "belonging" through flexible, personalized care in a safe home-like environment. A rich, creative therapeutic program is designed to both soothe and stimulate and meet the preferences, priorities and ever-changing needs of each participant.
Program Activities include: expressive arts, movement and exercise, memory stimulation, games and crafts, cooking, socialization, IPad usage, yoga, doll therapy, walks and community outings.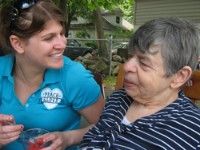 STAFFING
Special people - caring, compassionate, experienced and skilled makeup our multi-disciplinary team of staff, interns and volunteers. The program has a very small staff to participant ratio with ongoing training opportunities for staff and volunteers.
HEALTH MONITORING
Staff closely monitors all health issues working in conjunction with the family, doctor and any other health facilities. A R.N. is on-call.
FAMILY SUPPORT
Being a caregiver of someone with Alzheimer's disease can be all consuming. It can be emotionally fulfilling but draining, too! Education opportunities, support groups, resources, respite, family get-togethers and more are available for participants and their caregivers, family and other loved ones. Contact the Manager or call 203-368-3554 for more information and resources.
HOURS
TRANSPORTATION
FEES
We are open 9 a.m. to 3 p.m. Monday to Friday with morning or afternoon flexability. Transportation can be provided by The Kennedy Center. Most people are funded through the Connecticut Department of Developmental Services (DDS).
CHOICE
Deciding on the best option of care is often difficult. As you grapple with the decision, come visit and talk to us about your needs and those of your loved one. Please call 203-368-3554 to schedule an appointment.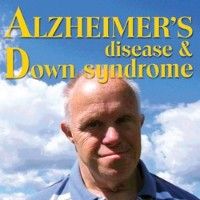 ALZHEIMER'S VIDEOS
In order to further understand Alzheimer's disease and Down syndrome, The Kennedy Center produced 2 videos. These unique documentaries funded by the Alzheimer's Foundation of America will hopefully break new ground in providing education and information, raising consciousness, and assisting in advocacy for much needed supports and services for people with Down syndrome and Alzheimer's disease.
The first video, Everyday is Different provides factual information about Alzheimer's disease and how a doctor does an assessment and makes a diagnosis; driving home the message that all other health-related conditions need to be ruled out before one is diagnosed with dementia. The second video, I am the Setting Sun follows the lives of two people in their early 50's who have Down syndrome and now have Alzheimer's disease. Through interviews with family and others, the focus is on how the disease impacts the person and his or her family and strategies for best "managing" the course of the illness.
These videos are an excellent addition to your collection. They can be used for classroom or practical training as well as shared with individuals facing these same issues. We encourage you to watch and share these videos and let us know what you think.
For information on how to order a copy click here
---
ADDITIONAL RESOURCES
Whether you're most comfortable with books, websites, or real-life people, when it comes to Alzheimer's, there are plenty of ways to get help and information.
The Alzheimer's Association 1-800-272-3900; 1-860-828-2828 (local phone) 1-800-356-5502 (24/7 Helpline) 1-860-828-2417 fax; website: www.alz.org/ct
This hotline is staffed 24 hours a day, and experts are standing by to connect you with any sort of help or information you need.
ADEAR- Alzheimer's Disease Education and Referral Network 1-800-438-4380
A program of the National Institute on Aging, ADEAR is a great resource for your questions on Alzheimer's disease, research and resources
AFA – The Alzheimer's Foundation of America 1-866-AFA-8484; website: www.alzfdn.org
Mission is to provide optimal care and services to individuals confronting dementia, and to their caregivers and families – through member organizations dedicated to improving quality of life.
CDSC - Connecticut Down Syndrome Congress 1-888-486-8537; website: www.ctdownsyndrome.org
Advocates for persons with Down syndrome in the state of Connecticut as well as addressing social policy issues, promoting public awareness and providing support for families of people with Down syndrome.
Down Syndrome Adult Assessment Program - Hospital of Saint Raphael, New Haven CT 1- 203-789-3275; website: www.srhs.org
Offers assessments for adults with Down syndrome to identify, diagnose, and treat geriatric conditions .
University of Connecticut – A.J.Pappanikous Center Developmental Disabilities 1- 866-623-1315; websitie: www.uconnucedd.org
Conducts research, training and technical assistance to enhance the quality of services and support for people with developmental disabilities and their families.