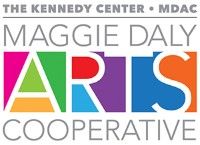 ---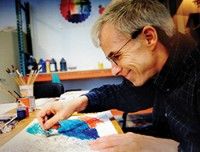 The Kennedy Center's Maggie Daly Arts Cooperative (MDAC) which opened in May 2014 is an exciting and unique new initiative by The Kennedy Center designed to provide an innovative environment where individuals can learn, create and benefit by participating in a multi-faceted arts program.  Located in the Read's Artspace building in downtown Bridgeport, this Arts Cooperative provides unique programming that assists individuals in creative exploration, self-discovery and expansive artistic growth using: Mixed Media, Visual Media, Painting, Music, Dance, Yoga and more!  MDAC's artists with intellectual disabilities have already made connections with neighbors, businesses, universities, museums, and art councils forming innovative partnerships to celebrate the universal language of art.
This Day Support Option program is still accepting applicants on a full time or part time basis. The Cooperative is designed for artists ready to take the step to full participation in the arts both independently and collectively with peer artists and artists in the community. The candidates should have a strong commitment and interest in arts and a sincere desire to engage in the art making process.
If you are interested in a tour or learning more about this program please contact: the Program Manager by email or at 203-690-1609. 
Maggie Daly Arts Cooperative /MDAC, 1042 Broad St (entrance on John St between Nail Salon and Martial Arts Studio), Bridgeport, CT 06604
For more information on MDAC's Art Exhibits and Artists, visit their website www.mdac-kc.org