Competitive Job Placement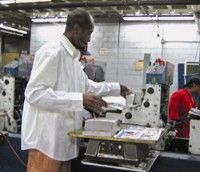 If you are a person with a disability, The Kennedy Center can help you find and maintain employment. We have two main programs that provide employment services: The Kennedy Center Placement Program and The Kennedy Center Mental Health Work Services Program.
We will work with you to:
Identify a career path
Look for employment opportunities that meet your needs
Speak with employers about your skills and abilities that qualify you for a job
Help train you to become a productive employee
We are funded by the Bureau of Rehabilitation Services, BESB, and the Department of Developmental Services.
For individuals who receive clinical services from Greater Bridgeport Community Mental Health or FSW, please follow this link for more specific employment related assistance: Mental Health Work Services.
Do you have a Ticket? The Kennedy Center is an Employment Network for the Ticket-to-Work Program and we can use your ticket to help you find employment.