National Disability Employment Awareness Month (NDEAM)
Increasing Access and Opportunity
The Kennedy Center and 126 of our partners in the business community believe in the power of employment.
Throughout the month of October 2020 — National Disability Employment Awareness Month (NDEAM) — we are working to spread awareness about the talents of individuals with disabilities and benefits of a diverse workforce.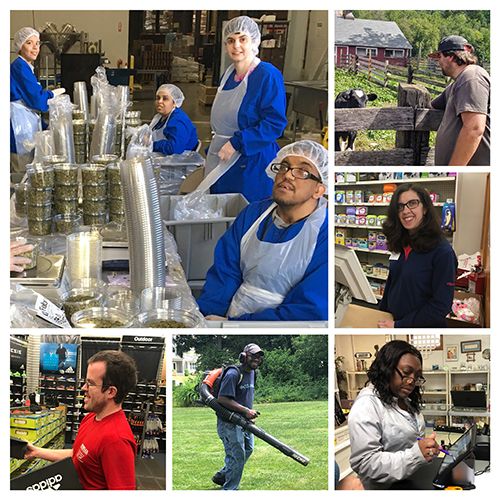 Get Involved
With nearly 70 percent of adults with intellectual disabilities unemployed, according to the U.S. Equal Employment Opportunity Commission, much work still needs to be done. 
Here's how you can help: 
Hire us! Our Social Enterprises provide cost-effective, high-quality services.
In need of professional staff? We have qualified candidates. 
Shop or Donate to our resale store, Palm & Able
Support The Kennedy Center through a donation, in honor of NDEAM. Your gift helps expand our employment programs and create more opportunities.
Learn more about employment for individuals with disabilities. Visit the U.S. Department of Labor's NDEAM page.
Our Impact
At The Kennedy Center, over 700 people receive employment supports or are part of employment programs each year. In the last four years, 432 people secured new employment through our competitive jobs program.
The Kennedy Center has over 20 years of experience in developing and operating social enterprises, or double bottom-line businesses, and today operates 6 successful enterprises which provide work for individuals of all abilities. These include: Palm & Able resale store, KENNDOC / Kennedy Document Services,  Kenn Kleen / Janitorial Services, Cutting Edge Lawn Service,  Soups & Such Catering and Frameworks.
The Kennedy Center also provides valuable jobs training, assessment and internship experience through programs and services.
Follow us on Facebook to see testimonials throughout the month of October and meet some of the individuals thriving in our communities.
Interested in receiving employment services or joining our programs?
Please contact The Kennedy Center Intake and Transition Services Manager at 203.365.8522 ext. 2085 or email. 
Rob's Story
Mike's Story
Vernadine's Story
Chelsea's New Job