Expressive Arts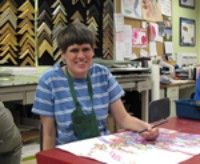 What is Expressive Arts?
Here at The Kennedy Center we think of Expressive Arts like some people think of their I-phone – an integral tool that we never leave behind and can, without failure, open our world to endless images, thoughts and ideas. Whether it be storytelling, dance, music-making, visual arts, yoga, poetry or drama, our expressive arts program potentially offers each participant a slice of creativity, self-discovery, community-building and personal enjoyment. Expressive Arts is based upon the belief that ALL of us have the potential to create art from the origins of our experiences and our unique perspectives; and that the process of art is as important and powerful as the product. In essence, the community of Expressive Arts excludes no one, and invites in everyone.
Who Facilitates the Expressive Arts Program?
We presently have a cadre of diverse artists, graphic designers, and art therapists who facilitate over 100 hours per week of individual and group expressive art sessions. One of the unique aspects of our staff is the diverse path that each has taken to arrive at The Kennedy Center. Many of our staff are comfortable with multiple mediums and will easily move from music, to yoga to visual arts.


How can I or My Family Member Get Involved?
Tell your Kennedy Center case manager that you would like to get more involved in the Expressive Arts program at The Kennedy Center. Programs are offered throughout the week, Monday through Friday. Classes occur at 39 Lindeman Avenue facility in Trumbull, CT and throughout many of the Community Experience programs, as well as in our after-school Family Partnership Program.


Will I Be Performing or Exhibiting My Work?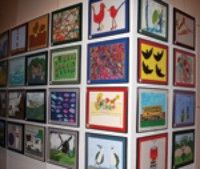 Our Expressive Arts program will occasionally perform live or exhibit works. Once a year we produce a Unique Perspective calendar and all artists are welcome to submit an entry for review.