Job Training and Support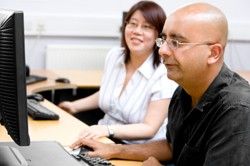 When a person first starts a new job, it can be overwhelming. There is new information that must be learned and remembered. To help better prepare you for your new job, your Kennedy Center Employment Specialist can offer one-to-one job training and support. This service enables your Employment Specialist to work with you at your job site to help find and develop strategies that may help you be more efficient and effective in completing your job duties. They can also collaborate with your supervisor or your colleagues on the job to assist you in reaching your desired outcome or even meet with you off-site to provide support and coaching if you choose not to disclose them to your employer.
Once you have been on the job and feel as though you require minimal support in maintaining that job, your Employment Specialist may discuss the option of moving you into The Kennedy Center Follow-Along Service. This service allows you to be completely independent on the job, but still have access to your Employment Specialist if the need arises. If you are given new job responsibilities, or work is being affected by something at home, your Kennedy Center Employment Specialist can increase support until you feel it is no longer necessary.