Peer Mentor Services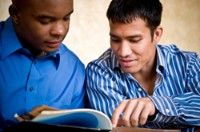 If you are receiving Kennedy Center Mental Health Work Services, and would like to meet with a person who is in recovery, and has successfully kept a job and managed his/her illness, your Employment Specialist can connect you with a Peer Mentor.
Have you ever wished you had someone to talk to that could really understand how you are feeling? Someone that has been through what you have and can share his/her experiences with you? Our Peer Mentors are all individuals in recovery who have their own "lived" experiences with mental illness. They have all had struggles in their lives, and worked through them. Our Peer Mentors have "been there, done that!"
Kennedy Center Peer Mentors assist the Employment Specialists in supporting individuals in returning to work. In addition to co-facilitating Job Club each week, the Peer Mentors run their own monthly Recovery Workshops. Gain information and build skills with a group that can understand your perspective.
If you are a person who is eligible for our Mental Health Work Services Program, and interested in looking for work, or would like more support in keeping a job, you can access a Peer Mentor. Talk with the Employment Specialist on your clinical team to get connected to work and The Kennedy Center Peer Mentor Services.
For more information on The Kennedy Center Peer Mentor Program, please contact our Mental Health Service Manager at 203-365-8522, ext. 266 or email.