Senior Mobility Orientation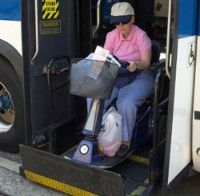 The Kennedy Center Senior Mobility Orientation is a program designed to assist you in utilizing public transportation for daily travel needs. One of our instructors will work with you to introduce you to the bus or train routes you would like to learn. It could be as simple as helping you find and read schedules or planning a trip. We would also be happy to accompany you on your first few transit trips.
The Kennedy Center has been providing "travel training" since 1991, assisting over 3,000 individuals in using public transportation. Our dedicated staff is available to show any senior in Connecticut how to use public transportation, one-on-one and at their own pace. We are a simple phone call away!
Senior riders can benefit from public transportation in many ways:
One advantage is to pay half-price fare on buses and some rail systems.
Public transportation is a reliable alternative to getting a ride from loved ones, senior center provided transit, or driving.
Public transportation is accessible to all riders.
All buses have wheelchair lifts or ramps, kneeling feature, and designated areas for seniors and people with disabilities.
Senior Transit Orientation removes the anxiety from your first few trips, making using transit a valuable learning experience rather than a mystery. Mobility Orientation is free, friendly, and works with your schedule. You have nothing to lose and your mobility to gain!
Presentations Have Been Made to seniors at:
The Danbury Housing Authority, The Danbury Senior Center, The Bethel Senior Center, The New Milford Senior Center, The Ella Jackson Senior Center in Bridgeport, and The East Shore and Atwater Senior Centers in New Haven.
For more information contact The Kennedy Center Mobility Services at 203.365.8522, ext. 2011 or email.