Transitional High School Students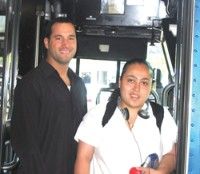 The Kennedy Center Mobility Services for Transitional High School Students in Connecticut include the following:
Curriculum and other materials to educate high school students with disabilities on how to access public transportation and be safe when traveling alone.
Teach participants the basics of public bus and train use. Understanding maps, schedules, fares, and trip planning.
Provide group bus familiarization sessions – let us show you how convenient buses and trains are!
Provide individual assessments, travel training, follow-up and retraining to transitional high school students.
Over 50 schools have participated in the program.
In March 2010, Transit Education Program received an appreciation award from Bethel High School for our work with their students who are learning to travel independently. Mobility has been teaching Bethel High School students to travel independently both in the classroom and the field for over five years.
For more information contact Mobility Services at 203.365.8522, ext. 2011 or email.