Family Support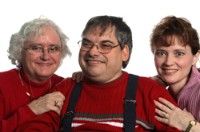 The Kennedy Center Residential Services assist families in identifying their needs, solving problems, and exploring options and opportunities to gain access to resources.
Support Services include:
In-Home Supports
Families can choose to have the Family Support Staff provide services within the family home. This arrangement is funded under the DDS Family Support Title 19 Waiver Program or through self-pay arrangement. The Kennedy Center Family Support Coordinator arranges a home visit to meet the individual and family and assesses specific needs for services. Subsequently, a Kennedy Center staff member is assigned to the individual to deliver services identified in the DDS Family budget allocation.
Please contact the Intake and Transition Service Manager at (203) 365-8522, Ext. 248 or email.
Caregiver Program
The program was created to address the caregiver needs of parents who are over the age of 60 who continue to support individuals with intellectual disabilities in their homes. This program is funded by the Southwestern Agency on Aging. The "Caring for the Caregiver" program is truly an innovative approach to the caregiving concept. Unlike the traditional caregiver programs, where the caregiver is identified as the parent who looks after a child with disabilities, the caregiver is identified as the adult with intellectual disabilities, who provides assistance for an elder family member. The Caring for the Caregiver program does home visits and assessments to offer a sensible and functional support system. To enroll in the program, please complete the referral form or contact the Family Support Coordinator at (203) 365-8522, Ext. 233 or email.
Resources for Families
Respite grants based upon need and funding availability
Family Support Meetings – Two to Four times a year
Liaison with DDS to assist families in accessing services
Advocacy efforts with families
Respitality weekends at the Trumbull Marriot Hotel
Families can enjoy a night or a whole weekend at the Trumbull Marriott at a reduced rate. The Marriott has extended this hospitality to family members affiliated with The Kennedy Center. Families have the option to enjoy the services of the hotel with or without the family member with disabilities.
For more information, please contact the Family Support Coordinator at (203) 365-8522, Ext. 233 or email.
Resources
DDS Website – Individual and Families / Consumer Corner