Ticket-to-Work Program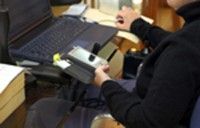 The Ticket-to-Work Program is an employment program for people with disabilities who are interested in going to work. If you currently receive SSI or SSDI, you are eligible for the Ticket-to-Work Program. The purpose of the Ticket-to-Work program is to help individuals obtain employment and achieve a level of self-sufficiency where the individual may no longer need the cash benefit associated with SSI/SSDI. Individuals will retain their medical benefits.
The Ticket-to-Work program is a voluntary program and individuals who choose to participate defer medical reviews as long as timely progress is being made. Also, participants who obtain employment and come off their cash benefit are entitled to rapid reinstatement within 30-days should they lose their job or have a change in job status.
The Kennedy Center is an Employment Network and we are able to help individuals in pursuing, obtaining and retaining employment. Our staff can offer support which includes, but is not limited to:
Individuals who participate in the program must agree to work towards self-sufficiency and must maintain on-going contact with their Placement Specialist. To discuss this program further, please contact the The Kennedy Center Vice President of Rehabilitation Services at 203-365-8522 x. 267 or email.
Additional Links & Resources
Medicaid for the Employed Disabled
APSE: Advancing Employment Connecting People